German Turkey Producers Visit Big Dutchman Brazil
BRAZIL - On November 8, 2007, Big Dutchman Brazil, located in Caxias do Sul, welcomed 50 German turkey producers on their premises. At the Big Dutchman facilities, they attended an interesting lecture about turkey breeding and were informed about the wide range of Big Dutchman-products.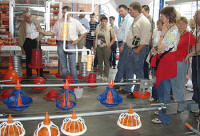 The German group also visited the production facilities and became acquainted with the production process as well as the pertaining logistics.

The Germans were greeted with typical Brazilian hospitality: The group was introduced to the wide variety of gastronomical highlights typical for Rio Grande do Sul. During the visit of Trentin Winegrowing the visitors tasted good wines and also some cheese, bread and salami. After that the visitors were invited to a BBQ and a typical Gaúcho show at the Big Dutchman Brazil Lounge Area.
Sponsored Article
---
Our Partners
---