International Egg and Poultry Review
US - By the USDA's Agricultural Marketing Service - This is a weekly report looking at international developments concerning the poultry industry.
China

Broiler Production and Consumption
Broiler production in China is forecast to increase by about five percent in 2007 to a total of 10.9 million MT and another five percent increase is expected in 2008 to a total of 11.4 million MT. The increase is mainly due to rising demand as a result of swine disease and a reduced concern over avian influenza. Over the last two years China has had outbreaks of Porcine Reproductive and Respiratory Syndrome (PRRS) that have caused significant losses to their swine industry. The disease has caused more then 10 million swine to die or be culled. Even though pork continues to be the preferred meat choice in China the losses due to disease have caused pork prices to increase sharply and these high prices have encouraged consumers to purchase cheaper alternatives, including broiler meat. Significant decreases in reports of highly pathogenic avian influenza (HPAI) have also contributed to increased demand for broiler meat.

Broiler Imports
Broiler imports are forecast to increase by nine percent in 2008 to 560,000 MT. Even with broiler production in China on the rise, the increase in imports will not likely offset the decrease in pork production due to the previously mentioned disease problems. The reduction in pork production is also expected to cause an increase in broiler parts imports in 2008 are, which are expected to increase since chicken is the most popular substitute for pork in China. The United States is the largest supplier of broiler parts to China and is expected to remain on top in 2008 because of a weaker dollar and increased demand due to the 2008 Summer Olympic Games in China. The U.S. will face increased competition in the Chinese broiler parts market from Brazil and Argentina. Trade issues could also play a role in which countries will be supplying the most broiler meat to China in 2008. China has started a zero tolerance program for pathogens found in imported meat and have refused imports from several U.S. plants that have had problems with pathogens in the past.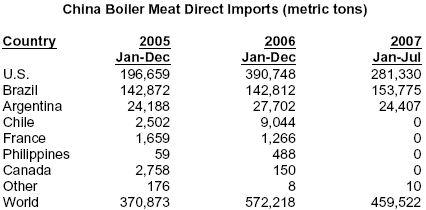 Source: USDA/FAS
Broiler Exports
Broiler exports in China are forecast to increase by about 10 percent to a total of 390,000 MT. The increases are expected to stay going to China's usual export market including: Japan, Hong Kong and South Korea with the majority of the exports going to South Korea. China had over 40 countries refuse their exports starting in 2004 because of AI. Since then only Malaysia has allowed Chinese broiler meat to come back into their country which has made the Chinese government optimistic that other countries will do the same.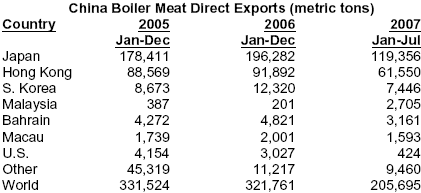 Egg Production
Although poultry egg production has remained mostly unchanged throughout 2007 it is expected to increase by about two percent in 2008 to a total of 29.5 million metric tons. The market is recovering slowly from the AI impact of 2004 and 2005 but it is showing improvement. Egg prices have increased by about forty-four percent because of limited laying hens but as production increased prices are expected to fall in 2008.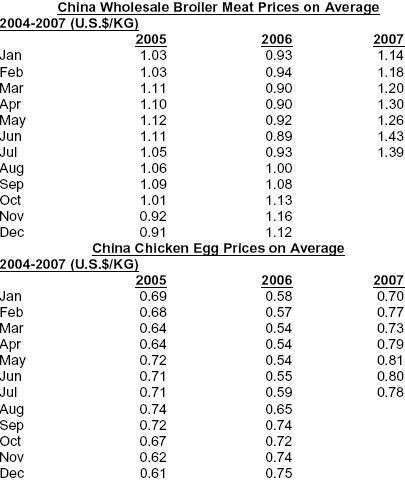 To view the full report,including tables, please click here