Life Begins At 40 For Nippon Chunky
JAPAN - Aviagen were delighted to celebrate the 40th birthday of Nippon Chunky, Aviagen's Ross distributor in Japan, at their Okayama Headquarters recently.
To mark this important occasion, the Aviagen team of Bill Souther, VP Asia, Paul Gittins, Project Manager, Africa Fernandez, Company Veterinarian, Michael Garden, Regional Technical Manager, Michael Longley, Technical Service Manager and Nippon Chunky senior staff attended a celebration dinner. David Butler, Aviagen's Technical Consultant, who has been instrumental in establishing the excellent partnership between Aviagen and Nippon Chunky, made a speech and presentation to honour this significant milestone.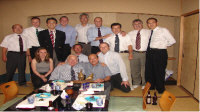 Nippon Chunky has worked with Aviagen from the onset and is one of Aviagen's biggest Grand Parent customers in Asia. This strong relationship has been the basis for the outstanding success of the Ross product in the Japanese market where it commands the leading position due to its excellent performance.

Sam Kikuchi, President of Nippon Chunky, commented: "We are delighted to celebrate our company's 40-year anniversary. We would like to express our thanks to Aviagen for a strong and successful partnership. Working with Aviagen's team of specialists has strengthened the support we can give to our customers and the outstanding qualities of the Ross product are widely recognized in the Japanese market. We look forward to further building upon this strong working relationship in years to come."

David Butler added: "We are very proud to have worked with Nippon Chunky over the past 40 years. We are pleased that the Ross product has been a part of the success for the company. The relationship has proven very successful for both parties and we look forward to continuing the partnership for many years."