Marel Foods To Aquire Stork Food Systems
NETHERLANDS - Marel Food Systems hf., announces that it has entered into an agreement to acquire the Stork Food Systems division of Stork N.V. The acquisition price is EUR 415 million on a debt and cash-free basis.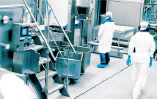 Marel Food Systems
Through the acquisition Marel Food Systems will double its revenues and strengthen the platform for further internal growth and profitability.

The acquisition of Stork Food Systems will be an important step towards achieving Marel Food Systems' target of becoming one of the leading global innovators of food processing equipment. The businesses of Marel Food Systems and Stork Food Systems are complementary, with no overlap in their product portfolios.
The Structure of the Acquisition
The transaction closure is subject to:

London Acquisition's B.V., public offer for all outstanding shares in Stork N.V., being declared unconditional.
The advice of the Stork Works Council.
Clearance from anti-trust authorities.

Until the transaction is formally concluded, each company will continue to operate independently.
The purchase price for Stork Food Systems is EUR 415 million, additional transaction costs are estimated to be EUR 20 million.
Prior to this transaction, Marel Food Systems sold its 20% shareholding in LME Eignarhaldsfélag ehf., reflecting the offering price of EUR 48.4 per share in Stork N.V.
The acquisition is fully funded by proceeds of sales of shares in LME Eignarhaldsfélag ehf., an equity offering underwritten by Landsbanki, and secured long term debt financing.
Landsbanki Corporate Finance acted as financial advisor and Allen & Overy in Amsterdam as legal advisor to Marel Food Systems in the acquisition of Stork Food Systems.