More Than 50,000 Pounds Of Chicken Donated To Food Bank
US - The holiday season for some East Texas families might soon be a little pluckier.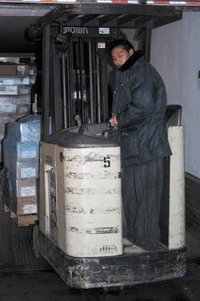 Michael Byars, an East Texas Food Bank employee, unloads some of the 50,000 pounds of chicken Tuesday donated by Pilgrim's Pride at a warehouse in Tyler.
Pilgrim's Pride is donating more than 50,000 pounds of chicken to the East Texas Food Bank.

The food bank estimates the donation will provide more than 39,000 meals to families during the holidays.

The donated chicken can fill two 18-wheelers, said Karolyn Davis, food bank spokeswoman. The first shipment of chicken arrived at the food bank early Tuesday morning. The second shipment is scheduled to arrive Monday.

"We've been a long-time supporter of the East Texas Food Bank," said Gary Rhodes, Pilgrim's Pride vice-president of corporate communications and investor relations. "They feed a lot of hungry people in our community."

Pilgrim's Pride made the largest donation in the food bank's history earlier this year with 100,000 pounds of chicken. Rhodes said the donations consisted of chicken nuggets, patties and breast fillets.

Davis said Pilgrim's Pride has donated more than 225,000 pounds of food in the last two years.

Source: News-Journal.com