Movement Restrictions Lifted In Saskatchewan
OTTAWA - The Canadian Food Inspection Agency (CFIA) has lifted most remaining movement restrictions on birds and bird products in Saskatchewan. The move follows extensive testing of birds within the province. No additional cases of avian influenza were found. This brings an official end to the avian influenza response operation, which began on September 27, 2007.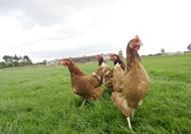 Bird owners in Saskatchewan may now freely move any live birds, including pets. As well, poultry products, such as meat and eggs, can also be moved without restriction. However, some countries have imposed import restrictions that are being addressed on a case-by-case basis.

The movement restrictions were placed on the entire province of Saskatchewan following the discovery of highly pathogenic H7N3 avian influenza in a commercial poultry operation. All birds on the affected farm were humanely destroyed and buried in a remote area of the property in accordance with government requirements.

The farm where the highly pathogenic virus was found will remain under CFIA restrictions for 21 days following the cleaning and disinfection of all barns, vehicles, equipment and tools on the property. After that, the producer will be able to introduce new birds onto the property.

The CFIA's actions in response to this incident are consistent with internationally-recognized animal health guidelines and the CFIA's established avian influenza response protocols.