No Yolk
SAUDI ARABIA - No scrambled eggs for breakfast seems hard to digest. A week after Qatar imposed a ban on the import of all poultry products from Saudi Arabia, the market is feeling the pinch.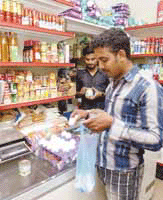 Eggs being sold at a local store in Doha yesterday. (Salim Matramkot)
Egg, the most commonly used source of food, is fast disappearing the supermarket shelves despite rise in prices, with people stocking up trays in their homes fearing severe shortage of the product in the coming days.

The price of eggs has gone up by 30 to 40 per cent in the retail market. Against the pre-ban price of QR15 for a tray of 30 eggs, the retail shops were selling one tray for QR20 yesterday.

The sudden increase in price has also forced small eateries to remove egg dishes from their daily menu.

With the country already imposing a ban on Indian poultry earlier this year, Qatar is solely depending on eggs produced locally and a small number from the UAE. Though the market was almost stable during the initial days of the ban, it witnessed quick fluctuations in the following days, sources told The Peninsula.

"Eggs are really short in supply. Against our daily demand of 200 to 250 cartons (one carton contains 12 trays of 30 eggs each), what we received today is just 50 cartons. The suppliers have put us on alert," said the purchasing officer of a leading supermarket here.
Source: ThePeninsula