Perutnina Ptuj Proud Winner of Ross Regional Flock Award
SLOVENIA - The 2007 Ross Regional Parent Stock Flock Award was presented to Perutnina Ptuj, Slovenia, at a recent technical seminar.
This prestigous award recognises the best parent stock performance in Eastern Europe and Perutnina Ptuj were delighted to report ongoing improvements in their Ross birds, with a result of over 140 chicks to 60 weeks, which is a remarkable achievement.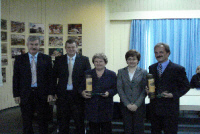 The seminar, an annual event, brought together representatives from Ptuj who enjoyed presentations by the Aviagen team on a wide range of topical technical subjects. Tore Mercan, European Technical Service Manager, highlighted the critical inputs needed to enhance fertility, Ian Dowsland, UK Technical Manager, discussed ventilation systems and Jonny Harrison, Aviagen's Area Technical Manager, gave an overview of the UK Broiler Industry and an interesting insight into European trends and market developments.

Jonny Harrison said: "We are delighted with the excellent results achieved by the Ptuj Team. These results demonstrate what can be achieved with the combination of good management and a superb product. The Aviagen Research and Development team are always keen to get the feedback from the field from occasions such as the Flock Awards as they help to steer our product development for the future."

Milena Valant-Majcen, Ptuj's Production Director, added: "Ptuj are very proud to be the winner of the award for the Best PS Flock for Eastern Europe. I would like to thank the Aviagen technical team for their support and advice which is key to our excellent partnership. Aviagen's technical service, shown in personal visits, seminars and their literature, is second to none and, coupled with the potential of the Ross product and the stockmanship of our managers, is a winning formula for Perutnina Ptuj."