Poultry Companies To Tackle Water Pollution
US - Poultry companies across the state will gather in Harrisonburg on Wednesday to reduce nutrient pollution in the state's rivers.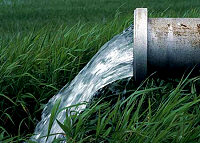 The goal of the agreement is to reduce phosphorus in poultry manure by 30 percent by Dec. 31, 2010, according to the Department of Conservation and Recreation.

Virginia's Secretary of Natural Resources, Secretary of Agriculture and Forestry and poultry producers from around the state will meet at 1:30 p.m. at the Harrisonburg Municipal Building on 345 S. Main St.

"We're pleased to announce a positive development regarding an environmental partnership with the Commonwealth of Virginia to enhance our natural resources," said Hobey Bauhan, president of the Virginia Poultry Federation.

Representatives from Pilgrim's Pride Corp., Cargill Meat Solutions, Perdue, Virginia Poultry Growers Cooperative Inc., George's Foods LLC and Tyson will sign an agreement to reduce the amount of phosphorus in poultry manure.

Source: DNRonline.com