Poultry In Court Over Legal Protection During Slaughter
US - Today, federal district court judge Marilyn Hall Patel will hear arguments in a landmark case seeking legal protection for the approximately 10 billion turkeys, chickens, and other birds slaughtered for commercial food production each year in the United States.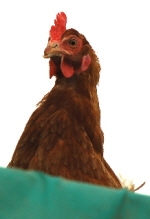 A broad coalition of humane organizations, slaughterhouse workers' advocacy groups, and individual consumers led by The Humane Society of the United States filed the case in 2005. It argues that the U.S. Department of Agriculture's policy of excluding chickens, turkeys, and other birds killed for human consumption from the federal Humane Methods of Slaughter Act (HMSA) is irrational and contrary to the agency's duty to protect farm animals from egregious abuse in commercial slaughter facilities.

"Turkeys and chickens raised for food at least deserve as humane a death as possible," said Jonathan R. Lovvorn, vice president for Animal Protection Litigation for The HSUS. "By narrowly construing the federal humane slaughter law to exclude poultry, the USDA has abandoned billions of animals each year to face some of the worst slaughter abuses imaginable."

According to the suit, current commercial slaughter methods allow approximately ten billion birds to be slaughtered each year without any federal protection from cruelty. The plaintiffs allege that the absence of federal oversight is not only inhumane, but also presents increased risk of injury to slaughterhouse workers and increased risk to consumers of contracting food-borne illness.

Facts
Although the HMSA explicitly requires that "cattle, calves, horses, mules, sheep, swine, and other livestock" be slaughtered in accordance with "humane" methods, the USDA interprets this law in a way that excludes turkeys, chickens, and other birds from the Act's protections.
As a result of USDA's policy, slaughterers continue to kill birds by shackling the fully conscious animals upside-down, electrically stunning them into paralysis, and sometimes even drowning the conscious birds in tanks of scalding water.
According to several recent studies, current slaughter methods increase the risk that carcasses will become contaminated with dangerous bacteria that can sicken consumers.
Controlled Atmosphere Killing (CAK), a method of slaughter in which birds are deprived of oxygen, has been shown to cause significantly less suffering than conventional slaughter.
The plaintiffs in the case—which include members of The HSUS, East Bay Animal Advocates, Mississippi Poultry Workers Equality and Respect and Western North Carolina Workers Center, as well as several consumers—are represented in the case by attorneys with The HSUS' Animal Protection Litigation Section and the public interest law firm of Evans & Page.