Record Feed Price Rises Threaten Livestock Sectors
UK - Do not expect to get a lift from reading the NFU Economics Department's latest quarterly Farming Outlook.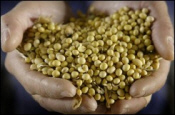 Record increases in feed prices driven by a tightened balance in supply and demand, rather than exchange rate fluctuations, threaten the long-term viability of some livestock sectors unless farmgate prices adjust accordingly, it says.

It suggests poultry and pig sectors are likely to be the most susceptible – but dairy, beef and sheep are not immune.

'Although dairy prices have improved in recent months, and producers will be compensated for increased feed costs, this has come as a result of a similar fundamental shift in dairy commodity prices', the report says.

'Even though it is expected that similar shifts will eventually be experienced in other sectors, market prices have so far remained relatively unchanged and profitability has, therefore, worsened.

'In the absence of rapid and commensurate adjustments, the long-term viability of these sectors is at stake'.
Source: FarmersGuardian