Russia, EU Inspections Nothing To Do With Meat - Official
MOSCOW - Inspections of Polish meat production companies by Russian and EU experts have nothing to do with meat exporters, a diplomat at the Polish embassy in Moscow said on Wednesday.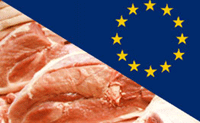 Russia's agricultural watchdog said earlier in the day it would conduct inspections of Polish producers interested in exporting meat products to Russia on November 14-15. The inspections would be carried out jointly with EU experts under an agreement reached during three-way talks in Moscow.

"They agreed the checks will only cover some randomly selected companies from a list of 12 feed and grain processing enterprises, 10 poultry and 31 dairy companies. All these companies have had licenses to supply their products to Russia for several years and have nothing to do with Russia's embargo," said Jerzy Rutkowski, head of the economic section.

Moscow imposed an embargo on meat imports from Poland two years ago. The ban followed accusations that Poland was supplying poor-quality meat from third countries.

In retaliation, Poland vetoed talks on a new Russia-EU partnership and cooperation agreement in November 2006 and threatened to block Russia's WTO membership, if meat deliveries were not resumed.