Soaring to Dizzying Heights with New Thai Plant
TOKYO - A new state of the art poultry processing plant, recently opened in Thailand, has an estimated production capacity of a whopping 30,000 tonnes when its second phase is complete.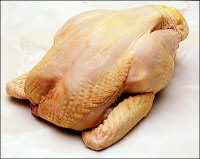 The project is a joint venture between Tokyo-based Ajinomoto Frozen Food and Thailand's Betagro Group aimed at meeting the increased demand by ever-diversifying consumer needs.

In addition, new lines have been installed in a production facility, located adjacent to the new facility, of Ajinomoto Frozen Foods' another local joint venture producing frozen processed pork products, to further reinforce production capacity.

Ajinomoto Betagro Frozen Foods (Thailand) was founded in 1995 as a joint venture between Ajinomoto Frozen Foods and Betagro, to produce frozen processed chicken products, and has since enjoyed steady increase of exports to Japan. Construction of the new production facility has been completed, and an opening ceremony was held on Friday, November 23, 2007, in Thailand.

The new production facility is located on Betagro's Food Complex 2, 8 kilometers away from the existing plant. Seven lines were newly installed in the plant area of 22,000 square meters, to triple its current production capacity to 24,000 tons. Production operated by the existing plant has been shifted to the new production facility, which has been in operation starting October 22.

All chicken meat used as raw material by Ajinomoto Betagro Frozen Foods (Thailand) is supplied by Betagro, who boasts extensively-monitored breeding process starting with feed. The new facility's integrated production process starting from raw materials to final products delivers safe and reliable frozen processed chicken products for export to Japan, such as "Kara-age (deep-fried chicken)", and "Grilled Chicken". New lines such as charcoal grill have been added to further reinforce quality excellence and product line-up.