'Suspicious' Samples led to ban on Saudi poultry
UAE - A UAE official revealed that the detection of suspicious samples among products that were imported from Saudi Arabia led to the ban on all poultry products from the kingdom several days before the official announcement of the bird flu attack.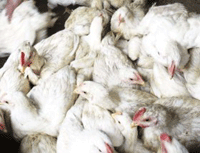 Bird flu has killed over 200 humans since it was first registered in Southeast Asia in 2003.
"While conducting regular inspections we found suspicious samples that led to quick ban on all poultry products, including frozen ones, from Saudi Arabia.

"This happened almost a week before the official announcement of the outbreak," said Abdul Nasser Al Shamsi, a member of the National Committee for Emergency Response to Bird Flu and the Director of Terrestrial Environment Research Centre (TERC) at the Environment Agency - Abu Dhabi.

"Initially when the UAE took the decision to ban these products, we were questioned by people why the decision was taken, especially businesses who are directly affected by the decision.

"Sometimes, products free of any contamination are shipped from other countries to Saudi Arabia, stored there and then re-exported to the UAE.

"To ensure the safety of our people we had to enforce the ban on all products, including these ... now the stance we took has been proven right."
Source: GulfNews.com