The Egg Shortage
GAMBIA - Egg is fast becoming a scarce commodity across the country. Out of five grocery shops in a neighbourhood, only one of them is likely to have eggs for sale. And that is not enough to meet the soaring demand.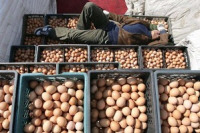 The result is that an egg price has gone up by an additional dalasi – now it is six dalasis, as against five dalasis barely a week ago. It is widely feared that it could double its original price by the end of this year. If this happens, then egg may disappear altogether from many dining tables in the country.

It could be that the egg scarcity has to do with importation difficulty in that most of the eggs consumed in this country are imported. It shows the danger of the dependency syndrome that plague African countries, the Gambia being no exception. Here in the Gambia, we import virtually everything we eat. The current egg scarcity, as well as other commodity scarcity in the past, has shown that it is suicidal for a nation to be heavily dependent on other nations for food supplies. Lack of food security represents lack of real sovereignty. A nation that cannot feed itself is vulnerable to international manipulation.

Since we hate to see the Gambia treated as a toy in the international arena, we want to reaffirm our commitment to the primacy of agriculture in consolidating our sovereignty. One of the many reasons why Taiwan for example is able to hold its own against Mainland China is because its citizens are well fed and are therefore hardly susceptible to external inducements. Just as a hungry and poorly fed person is toyed with, so the big powers of the world kick around a poor and hungry nation.
Source: ThePoint