Tofurky Sales Are On The Rise
US - Seth Tibbott was just an ordinary hippie living in a treehouse when inspiration struck.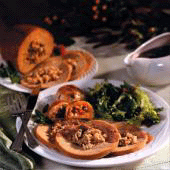 When Seth Tibbott became a vegetarian, he had some bad experiences on holidays, so he went to work and created Tofurky.
It was 1986, and Tibbott had spent the past six years hoping that his small business selling vegetarian meat alternatives in rural Washington state would catch on. Success proved elusive — the treehouse was the only place he could afford to live — until he developed a soy-based version of the traditional Thanksgiving turkey. He called it Tofurky.

"It's a name that resonates with consumers," Tibbott said. "We're fine with the fact they think it's funny or they get a smile out of it. You remember jokes."

Tofurky hit store shelves in 1995, and the meatless bird has become a cultural phenomenon, even showing up on the TV shows "Jeopardy" and "The O.C." Tibbott's company, Turtle Island Foods of Hood, Ore., has annual revenue of $11 million. Tofurky sales have grown 37 percent this year, compared with 2006. He expects to sell 270,000 Tofurkys by the end of the holiday season, which translates to 438,000 pounds of tofu, wheat protein, canola oil and spices.

The concept was born of Tibbott's vegetarian frustrations. He left Maryland for college in Ohio in 1969 and returned home having sworn off meat. Thanksgiving was particularly tough, he said, recalling a nasty bout with a stuffed pumpkin and a rock-hard gluten roast.
Source: TheStatesman.com