Tyson Committed, But Are The Chicks Raised On Antibiotics?
US - Tyson's Foods Inc has declared itself committed to the 'Raised Without Antibiotics' programme even though the U.S Department of Agriculture has told the poultry processor that they must stop using the label.
The specialised label had been approved by the U.S. Department of Agriculture earlier in May, but in a controversial turn-around the regulatory body have now had a change of heart. They say that the ionophores used in the Tyson chicken feed are at the centre of their complaints. These ionophores are used to prevent coccidia in the birds, but they are not used in human medicine.

They were given the ultimatum in September: stop using the label, or change the production method and apply again.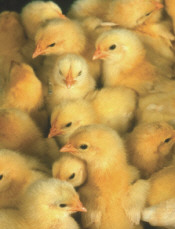 In a statement issued this week, the company said: "We stand by the truthfulness of our product labels and remain fully committed to our Raised Without Antibiotics chicken program. We also expect no disruption in service to our customers.

"Last May, USDA officials approved Tyson's labeling proposals for Raised Without Antibiotic chicken and were fully aware of our company's use of ionophores as a chicken feed ingredient. However, in early September, USDA suddenly reversed its position and gave Tyson several options including the removal of the "Raised Without Antibiotics" claim, a change in its feed formulation or the submission of a new label application.

"We've been in discussion with USDA officials on the best way to resolve this matter, and have submitted modified labeling we hope is approved soon. The additional wording states no ingredients have been used that could create antibiotic resistance in humans, which is the major reason anyone is concerned about antibiotics in poultry production.

"We do not believe ionophores are antibiotics. FDA is the agency Congress has authorized to regulate animal drugs and it specifically excludes ionophores from the list of animal drugs deemed as antibiotics.

"Margaret Mellon, director of the Food and Environment Program for the Union of Concerned Scientists, was recently quoted saying she was concerned that the Department of Agriculture's decision would cause consumer confusion and do nothing to promote human health.

"She said the decision was particularly perplexing because of Tyson's size and the fact that it was upfront with federal officials about its plans for continued use of ionophores. "In the more than 10 years I've been in this issue, they've never been considered antibiotics," she said. "I'm baffled by the whole thing."

"Ionophores are recognized and approved by the federal government as a safe feed ingredient. They're permitted in chicken feed as a preventive measure against coccidiosis, an intestinal illness, and are in a different class than antibiotics.

"Ionophores are not used in human medicine and do not contribute to the development of antibiotic resistance to important human drugs. They remain in the intestinal tract of the animal and do not carry over into the meat consumed by humans."