Why Chickens Are Getting Cheaper
UK - Shoppers are the winners of a kosher poultry price war which has led prices to plummet in stores despite an increase in wholesale prices at abattoirs.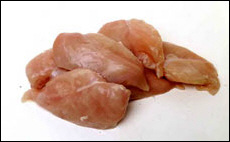 Prices plummet in a kosher war
One North London retailer with stores in Golders Green, Temple Fortune and Edgware was this week selling fresh roasting chickens at £2.87 a kilo, or £1.30 a pound — the cheapest shop price in years, according to those in the industry.

In contrast, wholesale prices have risen significantly in recent weeks in the wake of a worldwide increase in the cost of chicken feed, while the constant rises in the price of oil have set transport costs soaring. Kedassia, the kashrut authority for the Charedi community, has already announced a seven per cent (22p a kilo) wholesale price increase.

Acknowledging that the price-cutting was good for consumers, Jacky Lipowicz, chairman of the Licensed Kosher Meat Traders Association, warned: "This is an Alice in Wonderland situation and could end in tears for smaller butchers who don't sell the volume of some retailers and are finding it very detrimental to their businesses. This could force one or two butchers to the wall."

Albert Bendahan, the new owner of the Kosher Delicatessen chain, is the man selling the £1.30-a-pound chickens in a two-week promotion. He took over the shops, together with an interest in a poultry abattoir in Manchester, from former owner Avraham Swissa, who had introduced a price of £1.45 per pound (£3.20 a kilo) in June 2000 and maintained it ever since.

Source: TheJC.com
Further Reading