£100 Christmas turkeys: Don't Panic!
UK - Headlines about £100 turkeys are spreading alarm among consumers who normally spend less than half this amount on a Christmas bird, according to Jane Haigh, chairman of the Traditional Farmfresh Turkey Association.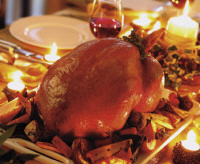 "Consumers have been warned through the autumn to expect to pay more for their Christmas turkeys owing to the big jump in wheat prices - but to see stories about £100 turkeys is something they just weren't expecting," says Mrs Haigh, who farms at White Roding, Great Dunmow, Essex.

"By all means if you're looking for a free range, organic bronze turkey produced to the very highest specification delivered to your door with cranberry sauce and stuffing, you might expect to pay this.

"But most consumers looking to buy a turkey will be paying less than half this - even with the much higher feed prices this autumn."

Prices vary around the country but, she says, an average 4 - 5 kg turkey reared to the TFTA's Golden Promise standards would generally be selling for £40 to £50.

"Consumers have come to recognise the quality of a Golden Promise turkey and there'll be more than 150,000 on the market this Christmas with the vast majority selling at prices little more than 10 per cent up on last year. So there's just no need for consumers to panic."