A Backbench Squawk for Poultry Welfare
UK - After a month when celebrity chefs decided that they themselves would have to take on failures in the poultry welfare system if anything was to change, the Government is to take action.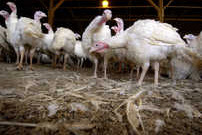 Last week Hugo Swire, MP for East Devon, urged the House to support the latest campaign to promote the welfare of poultry in broilers.

His calls came after the celebrity chef Hugh Fearnley Whittingstal recently began filming his latest project 'Hugh's Chicken Run' in the East Devon area.

According to the Farmers' Guardian, Hugh Fearnley Whittingstal said, "The supermarkets' heavy discounting has squeezed farmers' margins to the point where they are unable to make welfare improvements,"

He went on to explain how it was increasingly common for some producers to rear flocks of 40,000 birds, each living in an area smaller than an A4 sheet of paper. He plans to take on the big supermarkets and persuade them to change their practises.

In response to Hugo Swire's request Jonathon Straw said that he was pleased by the European Commission's directive on the welfare of broiler chickens, which gained political agreement at Agriculture Council on 7 May 2007, after two years of negotiations. "The UK worked hard with the Commission and other animal welfare-conscious member states to get the dossier agreed."

"The directive will deliver real welfare benefits for broilers, while balancing economic, social and environmental impacts. It takes into account a range of factors including the latest scientific evidence, veterinary advice, consumer concerns and industry practice.

Throughout the negotiations they held extensive discussions with a range of stakeholders, both through a formal consultation on the proposals as well as through meetings and correspondence. Jonathon Stra added that he aims to continue involving stakeholders during the transposition of the new directive into domestic legislation, including a full 12-week public consultation period.