Al Jazeera Hosted 1st Hubbard Poultry School in Jordan
JORDAN - On 6-8th November 2007 Al Jazeera Poultry Grandparents, distributor of the Hubbard Classic for Jordan, Iraq and Palestine invited technicians of their customers to the first Hubbard Poultry School held at the Le MERIDIEN hotel in Amman.
The international speakers from Egypt addressed many topics; Dr. Sayed Shalash (professor of Nutrition) spoke about feed formulations for breeders using the raw materials available in the area and broiler nutrition. Dr. Alaa Abdou (Professor of genetics) lectured about breeder uniformity and ventilation, Eng. Adel Saudi highlighted the importance of biosecurity and Dr. Abdel Hafeez spoke on vaccination programmes for the region.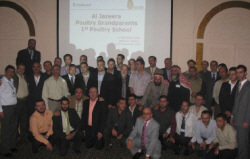 Hubbard was represented by Eng. Bruno Besnier, who gave the last updates on the Hubbard company, its products and the future; Mr. Jean-Jacques Trevidy addressed the nutrition for today's breeders; Dr Costas Constantinou presented a complete analysis about Clostridia and Eng. Alastair Lewin discussed breeder male and female management.

Special thanks went to Eng. Abdel Nasser el Huseini, president of the Al Jazeera group, for organising these most valuable days of interaction with the poultry industry in Jordan and surrounding countries as part of the successful development of the Hubbard Classic in this region.