Aviagen and Kego Host Successful Greek Customer Seminar
GREECE - Aviagen joined forces with Kego S.A., the Ross agent in Greece, to host their first customer seminar to introduce Aviagen to the Greek market and to discuss aspects of breeder management.
The event, held in Ioannina, north-western Greece, was attended by 100 delegates representing domestic breeder and hatchery companies. The delegates enjoyed an evening of presentations covering Aviagen's breeding programme and future market needs. In addition, a range of breeder management topics were covered to give the delegates practical advice to ensure that the performance potential of their Ross stock is achieved. The seminar provided an ideal opportunity for Aviagen personnel to strengthen relationships with many of their Greek customers.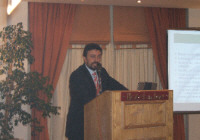 Dinah Nicholson, European Technical Director, said:

"We are delighted to work with Kego in the Greek market. This seminar offered us the opportunity to support them and help maximise performance of the Ross product for our Greek customers. Events such as these help to ensure Ross continues to be the product of choice in Greece."

Apostolis Kephalas, Kego's Managing Director, added:

"We are delighted to work so closely with the Aviagen team in serving the Greek market. We are confident that the close partnership between Aviagen and Kego, coupled with the proven track record of the Ross brand, will add value to our customers' operations."