Big Dutchman Introduces RainMaker Pad Cooling System
GLOBE - "RainMaker, the ideal cooling system for poultry houses in regions with hot and dry summers" is the name of the new leaflet about the important further development from Big Dutchman in the range of climate systems.
The four-page leaflet provides a good introduction to the RainMaker pad cooling system. All important component parts of the system are shown with coloured pictures and a concise description. With this leaflet, interested layer producers can get a first but well-informed overview of the system's new features and advantages.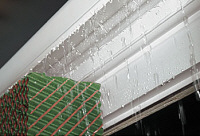 The novel frame system provides optimum visibility of the water in-flow and water circulation. An additional new feature are the special deflectors which ensure that the water is evenly spread along the full length of the pad. Practical snap retainers allow for simple and quick replacement of the pads. The water reservoir in the lower part of the frame system is large enough so that no additional water tank is needed. The most important characteristic of this uncomplicated cooling system is that the installation requirements are absolutely minimally and monitoring and maintenance can be carried out very simply.

If you use the contact form to order the leaflet, you will immediately receive the leaflet by mail. Or you may order the leaflet as PDF file e-mail attachment which will be sent to you in a matter of only a few minutes. To do this, simply select the leaflet in our digital library (products => climate systems) and enter your e-mail address.

The third and fastest way to receive this valuable information about the RainMaker pad cooling system is per direct download. Simply click onto the below listed leaflet title with the right mouse button and select "save as".
Further Reading