Grandparent Italia Delivered 1st Hubbard U-Y Parent Stock
ITALY - Grandparent Italia, exclusive distributor of the Hubbard U-Y PS in Italy, delivered the first flock of U-Y PS from their own hatchery on the 27th of November.
The 28.000 U-Y PS are placed in the area of Vicenza.

"The transport was perfect and the general condition of the flock is very nice, they have settled very well", says Valentino Brianza, Commercial Director of Grandparent Italia.

Olivier Behaghel, Business Director of Hubbard, adds "The Hubbard Ultra Yield is already well known and well appreciated in North America, especially for its excellent breast meat yield.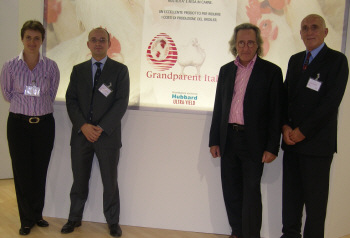 Grandparent Italia staff at the Forli show 2007 (from left to right): Tamara Smajlovic, Hatchery Operation Manager; Luchino dal Verme, Financial Director; Valentino Brianza, Commercial Director; Nurija Smajlovic, Company veterinarian and GP Operation Manager
The high technical level and the quality of the production of Grandparent Italia are important assets to Hubbard that will contribute to enlarge the success of the Ultra Yield in other parts of the world such as in Italy."