Hubbard Brings Distribution Network Even Closer to Customers
GENERAL - To further bolster its global supply chain and make it able to respond more quickly to customer needs, Hubbard plans to puts a greater emphasis on developing its already existing network of distributors, to include additional great grandparent (GGP) operations and grandparent (GP) distributors in strategic locations to put production closer to parent stock customers, according to David Fyfe, Asia business director.
It has recently opened subsidiaries in Brazil, UK and Hungary and signed agreements to set up GP operations in Italy, South Korea and New Zealand.

In Korea, the grand parent stocks are supplied to Maniker Co Ltd for sales and distribution. Maniker is today the second largest integrated broiler company in Korea, placing close to a million parent stock for their own needs.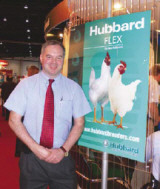 David Fyfe
"Hubbard is looking closely at the Japanese market because Hubbard Flex is proving to be ideally suited to the market needs.

Because of the large birds grown in Japan typically 3.2 Kgs As Hatched the market there has to have boilers that have strong legs with excellent livability. After evaluation, it found customer feedback to initial trials was very positive," said Mr. Fyfe. The market needs fit very well with the Flex broiler and breeder product features of good livability, easy of management, good egg production, hatchability and uniformity.

Hubbard expect to be in a position to make a further announcement about their Gps distribution plans for Japan later in 2008, Mr. Fyfe noted.

"The presence in New Zealand is an important milestone and we are currently in discussions to also bring Hubbard to the Australia market in the near future as well. Furthermore, Hubbard has strengthened technical services by appointing Dr James Bentley as nutritional consultant and adding David Harrower as Regional technical services manager," said Mr Fyfe.

In Asia, the company is looking into build on the successes with Flex in Europe through development of new business in China, Japan, India and Australia while making inroads in these markets with Hubbard Flex together with the M99 male line. "Hubbard have worked hard to bring producers the best balance between breeder and broiler while respecting the need for a product that is straight forward to manage even under challenging environmental conditions found in Asia," said Mr. Fyfe.

In markets moving more towards de-boning and cut up products, Hubbard Ultra-Yield product has performed well both at the breeder and commercial level. Field trials in various countries in Asia show more than satisfactory results. UY parent stock producers see competitive chick numbers of up to 135 chicks and persistency of lay. At the broiler level, the U-Y delivers a good growth rate, low feed conversion with high livability even in tropical conditions. On top of this, the bird yields typically 1% extra total deboned meat compared to some more traditional breeds for live weights ranging between 2.2-2.5 kg.

Hubbard along with their customers are doing further performance evaluation trials in countries such as Sri Lanka and India. Hubbard sees Thailand as a potential market due to strong demand for processing and deboning products. Two of their Gps distributors have already placed Gps of the UY.

In Bangladesh, where live birds make up over 90% of the market, Hubbard Classic remains the market leader in a market growing between 10-15% per year.

The company has just finished placing colour GPs into the Indian market. There are specific market niches, whether slow or fast growing. Hubbard is upbeat that the demand for colour birds will soon take off in India, he said.

Realizing customers' diverse needs, Hubbard is trying to match the products most suited to particular customers needs and working with them on the technical side to help them get the best genetics to exhibit the best results.

With the recurrence of bird flu, Hubbard has decided to develop alternative supply points. Following the bird flu outbreak in Europe in 2006, the company has been able to increase production at other satellite operations either at wholly owned subsidiary or with partners.

Currently, it has opened subsidiaries in Brazil, UK and Hungary. It will use Brazil as one of its strategic supply points.

It is working together with the US-based MetaMorphix to identify gene markers for desired traits to expedite selection and genetics development.

Hubbard is a company of Group Grimaud based in France.
What's new:
Key focus on new business development: China, Japan, India and Australia
Future development: feed conversion and excellent livability
Data recording and retrieval series for worldwide: the system enables producers to analyze parent stock and broiler production, enabling a prompt performance comparison between the companies own results and country or regional averages, as well as year on year improvements within the same company.
Strengthen technical services
More GP distribution agreements are yet to be signed
Direct investment in certain key strategic markets
Source: FeedAndLivestock