International Egg and Poultry Review
US - By the USDA's Agricultural Marketing Service - This is a weekly report looking at international developments concerning the poultry industry.
South Africa
Poultry production is becoming big business in South Africa. It is estimated that the poultry industry contributes about 16% of the total gross value of agriculture. Annual per capita poultry meat consumption has grown from 19.21 kg in the period from 1995-2000 to 21.24 kg in the period from 2000-2005 and projections are 24.95 lb in the 2010-2015 time frame. Per capita consumption trended lower for other meats, but is expected to slightly increase in future years. South Africa's steady economic growth over the past 7 years is the main driver for increased poultry meat consumption. Other factors include rising living standards, health awareness, convenience and price competitiveness relative to other proteins.

In 2007 South Africa's broiler industry is producing an average of 13.8 million broilers per week, up 7% from the 12.9 million broilers in 2006 and up 41% from 9.8 million broilers in 1997. Producers have announced expansion plans that will increase chicken supplies by more than 10% or by 1.5 million broilers per week over the next two years. The broiler industry in South Africa is dominated by 2 large producers that produce 55% of total broiler production in South Africa. The third largest produces 9%, 4 medium-sized producers supply 15% of the market with the balance provided by about 50 smaller producers.

Most of the financial risks involved in poultry production lie on the supply side. These risks include corn price rises, imports, diseases, theft and price wars. Over 50% of broiler feed consists of corn and the broiler industry uses about 30% of all feed manufactured in South Africa. Outbreaks of diseases such as Newcastle and Avian Influenza are a potential risk, but the South African poultry industry has formulated an action plan in the event of an outbreak. Consolidation has reduced the potential for price wars in the consumer market.

Imports represent approximately 10% of the total value of the poultry market in South Africa or more than 20% of production. Brazil is the most important trading partner for South Africa in terms of poultry meat, having more than 70% of the import market. South Africa's two major suppliers in 2006 were Brazil with 211,737 MT from Brazil and Canada with 33,304 MT from Canada

United States poultry exports to South Africa are constrained by an antidumping duty instituted in 2000. U.S. exports fell from 25,268 MT in 1999 to only 2,688 MT in 2001. South Africa's total imports of poultry meat under tariff number 0207 grew from 181,997 metric tons (MT) in 2004, to 214,022 MT in 2005 and 293,000 MT in 2006. Expectations for 2007 are over 300,000 MT.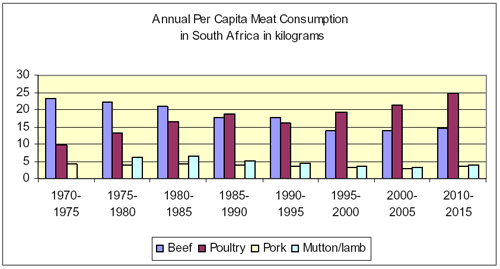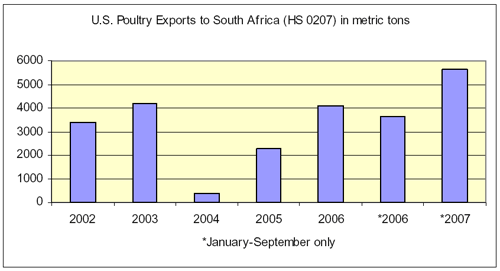 To view the full report, including tables, please click here