Latin Chicken Comes to Roost in the US
US - Campero USA today announced a new tenant/landlord relationship with Wal-Mart Stores, Inc. This U.S. division of Pollo Campero, the largest Latin American chicken restaurant chain, is planning to open 500 units to millions of Wal-Mart customers by 2012.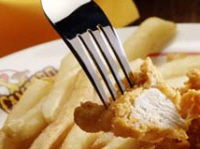 "We are extremely excited about the relationship between Campero and Wal-Mart," said Roberto Denegri, president and COO, Campero USA. "The relationship with Wal-Mart gives us an unprecedented opportunity for a wide variety of people to indulge in our distinctive menu."
Pollo Campero has launched an aggressive U.S. expansion after more than 35 extremely successful years in Latin America, and quickly established a firm foothold in the incredibly competitive U.S. chicken industry. Campero now has more than 260 restaurants in 11 countries and three continents. Its goal is to open 500 units in the United States by 2012. The relationship with Wal-Mart will assist in this endeavor.
Wal-Mart's ongoing commitment to the Latin American community is exhibited by this new relationship with Campero. The retail giant has an increasing Latin American customer base in many of its stores around the country.
"Our customers today come from many different backgrounds and all walks of life. Many are Latin American, and they are among our fastest-growing markets," said Gisel Ruiz, vice president and regional general manager, Wal-Mart Stores, U.S. "It stands to reason that our offerings reflect the needs of the communities we serve. We know Pollo Campero will add value to Wal-Mart with its premium Latin American restaurant brand."