Middle East and Africa Distributors Celebrate Arbor Acres Plus Success
KENYA - The second meeting of the Arbor Acres Middle East and Africa Association (AAMEAA) was recently held in Kenya.
The Association was established in order to exchange regional information and market requirements and to develop strategies to ensure the future success of the Arbor Acres brand.

Delegates of Arbor Acres' seven distributors were represented at the event, which celebrated the continuing growth of the Arbor Acres brand, in terms of new customers, product performance and greater working partnerships with Aviagen.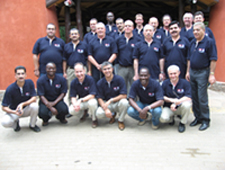 Three new distributors were welcomed into the Association. CHI from Nigeria, Iraqi Grandparent Poultry Company from Iraq and Arbor Acres South Africa have all become distributors since the foundation of the AAMEAA in February 2005.

Dr Sarosh from Quality Breeders, the Arbor Acres distributor in Pakistan was also present to offer an Asian perspective.

The three day event consisted of presentations from a number of guest speakers, Aviagen personnel and a country update from each of the distributors.

The Keynote Speaker, Jim Johnstone, Food Chain Partners Worldwide Ltd, gave a detailed account of all the elements and structures necessary to establish successful integration and contract farming.

Stanley Millar, Regional Sales Manager said: "The Association allows us to sit together to explore methods to strengthen the relationship between Aviagen and our distributor partners. Our goals are that Arbor Acres Plus is to be the product of choice and our GPS partners, in their respective territories, will be the supplier of choice."

Mr. Davood Rangy, Managing Director, Ajdade Eram, Iran added: "The selection of topics on the agenda confirms that Aviagen have the customers' interests at heart. The Iranian industry is very fragmented and the presentation by Mr. Jim Johnston was of particular interest on how to become more efficient through integration."