Ross Nutrition Seminar in Turkey
TURKEY - Ross Breeders Anadolu, Aviagen's Joint-Venture Company in Turkey, recently held a nutrition seminar in Istanbul. 50 representatives from the major Turkish feed suppliers attended the meeting.
The meeting agenda was drawn up in accordance with Ross Breeders Anadolu's nutrition policy and offered the latest information and advice from nutrition specialists from Aviagen, Anthony Waller, Anitox, Simon Parker, and Ross Breeders Anadolu, Seyfi Ay.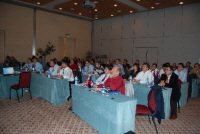 Subjects covered included the milling process and feed physical quality, separate sex growing of broilers and Amino acid density of broiler feeds and its effect on broiler performance.

Anthony Waller, Nutrition Service Manager, commented: "The seminar was an ideal opportunity to meet with the key people from the Turkish feed mill sector. Good nutrition is vital to ensure customers achieve the best possible performance from their Ross stock. "

Seyfi Ay added: "The seminar was a great success and we plan to make it an annual event. Having such a focused and informed agenda meant that we were able to gather all feed mill managers from the Turkish industry together. This made it an ideal platform to exchange information and to continue to improve the standards of feed to the Turkish market."