Scramble for Fresh Eggs
QATAR - Eggs have literally disappeared from shop shelves all over the city as supplies have dwindled due to the recent ban imposed on the import of Saudi poultry products.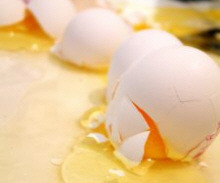 Local poultry farms are making the supplies as usual and without introducing any price increases but they are simply not able to cope with the huge demand.

Most retailers The Peninsula spoke to said yesterday that they were not getting adequate supplies due to the yawning demand-supply gap and were, therefore, unable to keep their regular customers happy.

"I feel embarrassed every time I have to return a regular customer looking for eggs," said Hassan, a salesman from a supermarket. The shortages have led some shady operators, arguably including middlemen, to exploit the situation and sell stocks to some eateries at prices ranging from QR30 to QR35 per 30-piece crate.

A small eatery which said it sold an egg sandwich for QR2.5 a fortnight ago is now forced to double the rate, claiming it was buying limited stocks from the black market.
Source: ThePeninsula