Turkey Welfare Needs to Hatch
UK - More Freedom Food labelled turkeys than ever before will be available this Christmas as consumers step up demand for higher welfare products.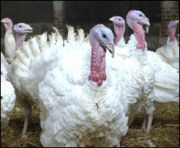 Demand for welfare increases.
However the RSPCA's Freedom Food scheme still thinks people don't know enough about what they are eating and is asking consumers to find out more about what's on their plate this Christmas.

The number of turkeys reared under Freedom Food - to the RSPCA's higher welfare standards - has more than doubled from 146,000 in 2004, to 312,000 this year.

This news follows the Co-op Bank's latest report which revealed ethical household spending has almost doubled in the past five years - with food and drink leading the way with a 17 per cent growth.

But despite the impressive increase in Freedom Food labelled turkey, most of the 17 million turkeys reared in the UK are still being reared to welfare standards that the RSPCA finds unacceptable.

Leigh Grant, chief executive of Freedom Food, said: "The RSPCA has real concerns about the way in which the majority of turkeys in the UK are reared. The industry's standards simply aren't good enough and we would like to see all turkeys farmed to the RSPCA's higher welfare standards.

"We are delighted that more Freedom Food labelled turkey is now available but there is still a long way to go. We want consumers to make the effort to find out the truth about the lives of turkeys. There is so much people don't know - not just about how they are farmed but also how fascinating they are.

"We believe that turkey welfare can really be improved if people make the effort to find out more about what they put on their plate this Christmas, and show they care by only choosing higher welfare birds like Freedom Food."

In response to these concerns - and the high number of turkeys and other poultry, meat, salmon, eggs and dairy products purchased in the festive season - Freedom Food has today launched a Christmas campaign giving key facts about animal welfare and urging people to choose festive food carrying its logo.