Bird Flu Creeps into 2 New Indian Districts
INDIA - Bird flu was detected in South 24 Parganas and West Midnapore taking the number of affected districts to 13 out of a total 19 in West Bengal (WB), according to reports from Expressindia, West Midnapore District on Monday.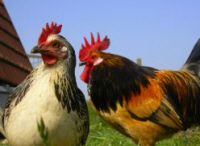 Photo: StockXchange
Authorities of the two districts confirmed the spread of avian flu and said that culling operation will begin on Monday.

Samples of chicken sent from Chakbelcha village in Debra block of Kharagpur subdivision had tested positive, West Midnapore District Magistrate N S Nigam said, adding that 40 teams will start culling operations in 5 km radius of Chakbelcha on Monday.

In South 24 Parganas the disease tested positive in Budge, District Magistrate Sanghamitra Ghosh said.

Meanwhile, bird flu spread to Baro Khalasamari at Mathabhanga block in affected Coochbehar district, where the disease had hit four villages in Dinhata blocks I and II. In the affected district of Howrah, avian flu spread to Panchla in addition to Sankrail.

Reports from the district said some birds like falcon were found dead.

Further Reading