Bird Flu's Deadly Flightpath to India
INDIA - The deadly H5N1 bird flu virus has struck again in India, this time two districts are the target. In the last 10 days, untimely and mysterious death of poultry animals was reported from Birbhum and South Dinajpur districts in the state.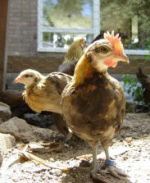 The deadly H5N1 virus has so far claimed over 216 lives globally since 2003
Photo: StockXchange
The High Security Animal Disease Laboratory (HSADL) based in Bhopal has confirmed that the outbreak is indeed that of the lethal H5N1 strain of avian influenza. This is the fourth time the virus has surfaced on Indian soil since 2006.

Health Secretary Naresh Dayal said rapid response teams are already in the affected districts and are monitoring the situation closely. West Bengal is on the border with Bangladesh, which has been battling bird flu since the last year. Some 300,000 chickens have succumbed to the disease there.

Birbhum chief medical officer Sunil Kumar Bhowmick said over 20,000 chickens have died in Margram and that workers were now homing in on people who had been in close contact with the infected birds.

Last year, the World Health Organization had declared India "free from bird flu" following large scale culling to contain the spread of the disease in Nandurbar district of Maharashtra in 2006 and Chingmeirong village of Manipur in 2007.

Avian influenza or bird flu is caused by a subtype of the H5N1 virus and affects domestic poultry as well as wild birds. The virus first made its appearance in Hong Kong in 1997 and resurfaced in Cambodia, China, Indonesia, Japan, Laos, South Korea, Thailand, and Vietnam in late 2003 and early 2004 according to the Centers for Disease Control and Prevention. By late 2004 the infection was said to be under control.

But last year was a watershed in terms of human fatalities. Indonesia was the worst affected country with over 60 documented human deaths followed by Vietnam. One real fear is that if the H5N1 virus mutates to an easily transmissible from between humans, a horrific flu pandemic will result and claim millions of lives, according to scientists.

Bird flu has emerged as one of potentially lethal conditions to affect mankind in the 21st century. The condition caused by the deadly H5N1 virus has so far claimed over 216 lives globally out of 349 confirmed cases since 2003, according to World Health Organization data.

Experts fear if the H5N1 virus mutates to a form that is easily transmissible between humans, it could trigger a worldwide pandemic and claim millions of lives, as there is no treatment against it.

Infection in humans typically stars as fever, cough, sore throat, and muscle aches progressing to eye infections (conjunctivitis), pneumonia, acute respiratory distress, viral pneumonia, and other severe and life-threatening complications, according to the CDC.
Further Reading