Cobb and Sasso in Partnership
US - Leading primary broiler breeder supplier, Cobb, has joined forces with French breeder of traditional farm poultry, Sasso, it was announced at the International Poultry Exposition in Atlanta, Georgia in the US.
The partnership will develop, produce, sell and market Cobb Sasso coloured bird and speciality breeding stock in specific global markets.

The Memorandum of Understanding, signed by managing director of Cobb Europe, Steve Parsons, and executive director of Sasso, Louis Perrault, establishes an agreement to produce and market speciality products for the semi-industrial, certified free range and organic sectors.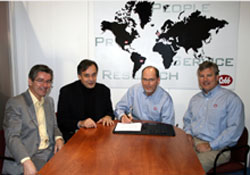 The objective of this strategic alliance is to sell parent stock of coloured bird and speciality products in Europe and grandparent stock in markets elsewhere.
The collaboration is designed to give both parties the opportunity to expand their product range and strengthen their joint position as suppliers of alternative genetic stock.
Sasso, which has its headquarters at Sabres in South West France, was established 30 years ago by the leading French Label Rouge poultry producers and is today a world leading breeder of traditional farm poultry.
Sasso is well known around the world as a specialist in coloured breed selection.
Cobb, with its headquarters in Siloam Springs, Arkansas in the US is the leading primary broiler supplier to the global chicken industry and distributes to more than 70 countries.