Eat Meat for a Healthy Diet
LEXINGTON, US – After recent conflicting studies regarding a potential link between meat, obesity and cancer, many people might be puzzled about the nutritional value of meat and the proper amount to include in a healthy diet.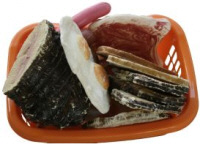 Photo: StockXchange
Gregg Rentfrow, University of Kentucky meat science extension specialist, said studies show there is no link between meat, obesity and cancer, and meat consumption is a part of a healthy lifestyle.

Rentfrow said meat often is associated with high levels of trans fat, which causes so-called "bad" cholesterol levels to rise and increases the risk for heart disease. While cattle and sheep meats contain a small amount of trans fat when produced naturally, this is nowhere near the amount of trans fat that is added during food preparation when meat is cooked with hydrogenated cooking oils.

While many people are aware meat is a good source of protein, they may not realize it also contains many vitamins and minerals. Meat is the only natural source of some B-vitamins and contains 40 percent of the daily recommended amount of zinc. It also contains iron and amino acids. Protein found in meat is 95 to 100 percent digestible by the human body while only 65 to 70 percent of plant proteins can be digested, Rentfrow said.

Similar to many diet plans, he said the key healthy ways for people to incorporate meat into their diets are portion size and exercise.

"The amount of meat a person should eat depends on their activity level," Rentfrow said. "Athletes need more protein in their diets than others to keep their muscles strong."

He said a suggested serving size of meat for the average person is the size of a deck of cards, but that doesn't mean people cannot occasionally enjoy a 12-ounce prime rib at a restaurant. However, they should not eat such large portions every night, he added. Limit portion size and fat content in meat by shopping for leaner cuts, which are offered in each meat commodity.