Hong Kong has Many Eyes on Poultry Smuggling
HONG KONG - To ensure the foods available in Hong Kong markets are free of hazardous substances - including the avian influenza virus - the Government has set out stringent health measures and standards on locally produced food items and those imported through proper channels.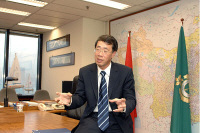 Richard Yuen
Recently, it set up a task force with representatives from three departments to bolster the crackdown on smuggling of food and live poultry and birds.

Its Chairman, Commissioner of Customs & Excise Richard Yuen, says this task force will devise and implement ways to stamp out such illegal activities.

In an interview with news.gov.hk, Mr Yuen said the Government understands the public's concerns about smuggled food and birds, and the risk it creates concerning food safety and public health. Since the issue involves several departments, the Government set up the Task Force Against Smuggling of Food & Animals with members from the relevant units.

It includes representatives from the Customs & Excise Department, the Food & Environmental Hygiene and Agriculture, Fisheries & Conservation Departments. If necessary, it will also enlist other Government departments' support.
Anti-smuggling strategies
Mr Yuen said the task force has identified three types of smuggling activities involving different groups of people. They are:
individuals who illegally bring in small amounts of food and poultry for personal consumption;
professional couriers who smuggle sizeable amounts of food and poultry for sale to food shops and restaurants; and
yndicates which use lorries or boats to smuggle significant amounts of food and poultry into Hong Kong.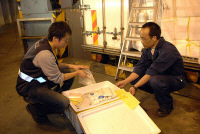 FEHD staff take samples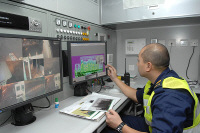 Customes X-ray system
The Government will step up publicity by broadcasting more announcements in the public interest - or APIs - on television, and display more posters in departure halls. This will help remind those individuals who bring in small amounts of food and poultry that this is illegal.

The Government will also step up surveillance and enforcement action against professional couriers. It will consider prosecuting these offenders by laying formal charges instead of issuing summonses.

"We plan to impress upon the court that it is a serious offence as it will have a serious impact on public health. We hope the court would mete out more severe punishment, creating bigger deterrence to stop such illegal activities," Mr Yuen said.

To tackle smuggling syndicates, Customs will step up its search of vehicles and vessels at the control points and at sea. "We will also step up our exchange of intelligence among Government departments and with the trade, so that we can collect more information and intelligence to target these syndicates and take more effective enforcements," he added.
Joining forces
Joint operations involving the three departments to tackle the problem began well before the task force was set up. For example, the Customs & Excise Department and Food & Environmental Hygiene Department worked together at Man Kam To control point from October to December last year, boosting inspections of vehicles carrying vegetables.

When these vehicles entered the control point, officers first checked the pesticide declaration forms and manifest documents. Suspicious vehicles were subjected to detailed checks based on intelligence gathered and risk assessment.

After checking and opening the inspection seals made by the Mainland authorities to the vehicles, Food & Environmental Hygiene Department officers took vegetable samples to test for pesticide residues.

Customs officers then examined the consignments to make certain there were no smuggled or contraband items inside, and would use the X-ray vehicle scanning system for further inspection when necessary. Once suspected food smuggling was detected, Customs and the Food & Environmental Hygiene Department would follow up the case jointly.

During this joint operation, about 1,300 vehicles were examined. Mr Yuen said the operation was effective, adding the departments will conduct similar blitzes as part of the task force's sustained actions.
Food import control
Centre for Food Safety Controller Dr Constance Chan noted that, under the Public Health & Municipal Services Ordinance, certain high-risk food items - including game, meat and poultry, as well as milk and milk products and frozen confections - were subject to import control. Anyone who imported such items had to seek prior approval from the Government.

When food is imported into Hong Kong, officers from the centre inspect the consignments and check the permits and health certificates. They also take samples for chemical and microbiological tests to ensure food safety.

"When vehicles carrying vegetables enter Hong Kong through Man Kam To, our officers will check the import documents and pesticide declaration forms. We will also inspect the seal applied to the vehicles and take random samples for chemical and microbiological tests and analysis," Dr Chan said.

Last year, the centre conducted checks on 28,000 vehicles transporting vegetables and took 13,000 vegetable samples for detailed tests. Among them, four samples failed the tests.

The centre has been working closely with Customs in stamping out food smuggling, she said, noting the two have regular meetings to exchange information and intelligence, and conduct joint operations.

With the assistance of Customs, 19,000kg of smuggled meat was seized and 125 prosecutions were taken out last year.
Tough penalties
She reminded the public that importing game, meat and poultry without health certificates is an offence. Offenders are liable to a maximum fine of $50,000 and six months in prison.

Apart from imposing import controls, the centre also has a regular food-surveillance programme to ensure food safety. "We take samples at the import, wholesale and retail levels. In 2007, we took over 65,000 samples for chemical and microbiological tests," Dr Chan said.

Deputy Director of Agriculture, Fisheries & Conservation Lau Sin-pang also reminds people not to smuggle or import live poultry or birds without valid health certificates.

Without such documents, the birds' health status and origins are unknown, he said.
Public health risk
"Since birds might be under stress when being smuggled into Hong Kong, they have a higher risk of catching and spreading infectious diseases. If these birds are infected with avian flu, they may spread the disease to other birds or people who handle the birds, posing a great risk to the public health."

Under the Public Health (Animals & Birds) Regulation, anyone who imports live poultry without a valid health certificate is liable to a fine of $25,000 and forfeiture of such animals.

Mr Lau said the department conducts frequent inspections of poultry farms, bird shops and the wholesale market to ensure proper precautions against avian flu have been implemented. The department will continue its wild bird monitoring and surveillance.

"We will work closely with the Customs and the Food & Environmental Hygiene Department to combat the illegal smuggling of poultry," he noted.

The Agriculture, Fisheries & Conservation Department seized about 2,000 illegally imported live birds, including poultry, last year.

People should call the Food & Environmental Hygiene Department hotline, 2868 0000, if they have doubts about the origin of meat on sale. People with information about illegal keeping or smuggling of poultry or other animals should call the Government's hotline, 1823.