Hubbard Appoints Dr. Padmawar as Sales Manager India and Sri Lanka
BANGKOK, THAILAND - Hubbard is very pleased to announce that Dr. Gajanan Balaji Padmawar DVM has been appointed as Sales Manager covering Grandparent and Parent stock sales in India and Sri Lanka. Dr. Padmawar graduated from the Nagpur Veterinary College.
Dr. Padmawar has extensive experience in poultry having formerly held a number of senior positions within Venkateshwara Hatcheries Ltd and most recently as General Manager of Japfa Comfeed India Ltd.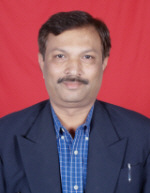 Dr. Gajanan Balaji Padmawar.
Dr. Padmawar will work with Hubbard in the field of Grand Parent and Parent sales in which he has a great deal of knowledge. This appointment reflects on Hubbard's commitment to further expand their sales of breeding stock in this fast growing region and as a result of continued gains in market shares both within Europe and Asia. Dr. Padmawar will remain to be based in Pune and will report to David Fyfe, Hubbard's Business Director Asia.

David Fyfe states, "Dr. Padmawar comes with a sound management and technical background and his role will be a further reinforcement of Hubbard's international sales force. We take this opportunity to wish Dr. Padmawar every success and at the same time to express our profound thanks to Dr. Sunil Sharma, who takes up a new position with Wal-Mart India and thank him for his many years of service and hard work for Hubbard throughout the world."