International Egg and Poultry Review
US - By the USDA's Agricultural Marketing Service - This is a weekly report looking at international developments concerning the poultry industry.
The timeline for the current spread of H5N1 began in December 2003 when South Korea reported its first outbreak of H5N1. Since that time, 61 countries in Asia, Europe and Africa reported HPAI (H5N1) in domestic poultry/wildlife. Of those 61 countries, 47 had outbreaks in poultry. In 2007, 30 countries reported outbreaks in domestic poultry/wildlife. The number of reports was particularly high between January and April 2007, mainly in Asia and Africa. The number of cases slowed from May through September, and then rose again in November when 12 countries reported outbreaks. Most of the confirmed outbreaks have been in domestic poultry (chickens, ducks, geese, turkeys and quails).

A preliminary global analysis of HPAI (H5N1) situation between January and December 2007 indicated few outbreaks and fewer infected countries compared to the same period in 2006. Improved disease surveillance and increased awareness have allowed countries to better detect and control the disease.

The first outbreak in poultry in Europe was reported in July, 2005 and Africa's first outbreak was reported in February 2006. In 2006, numerous countries detected H5N1 in domestic poultry and/or wild birds for the first time. In 2007, only five countries reported outbreaks for the first time: Bangladesh, Benin, Ghana, Saudi Arabia and Togo. Viet Nam and Bangladesh continue to report multiple outbreaks from several provinces and HPAI (H5N1) is considered endemic in Egypt and possibly in Nigeria.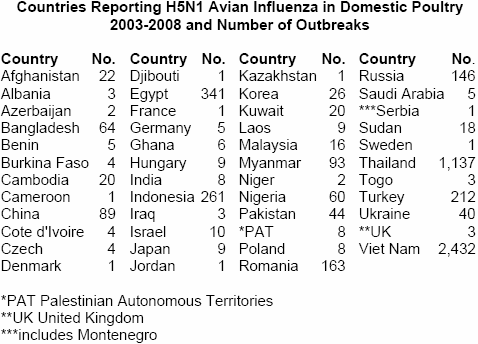 Chile Poultry Production
The poultry industry in Chile grew dramatically over the past two decades. Poultry meat for domestic consumption grew over 200 percent, reaching a per capita consumption of almost 34 KG by 2006. Poultry meat is now the main source of animal protein in the domestic market. The industry invested heavily to modernize productive systems, introducing state of the art technologies and providing direct and indirect employment to over 20,000 workers.

Exports totaled US$13.6 million in 1991, and by 2006 exceeded US$150 million. Presently, Chile exports poultry products to 26 different countries. In 2007 the Russian and the U.S. markets opened for the Chilean poultry industry. Chile can export poultry products to the United States starting Dec. 3 of 2007 and presently has a yearly duty free quota of 8,400 metric tons. Exports to the US are expected to begin in 2008 and are expected to reach 12,000 MT in 2010, mainly of raw chicken breasts, according to the industry estimates. These are based on its actual and future production capacity and its decision of maintaining an increasing presence in the export market. The industry expects the U.S. to become the most important export market for Chilean poultry products in 2013.
The smaller production and export shown in our table for 2007, is a consequence of a fire which destroyed the processing plant located in San Vicente, Region VI. The plant stayed out of production from November 26, 2006 through September 2007. This company represents over 50% of domestic production. Domestic consumption of poultry meat grew another 11 percent in 2006 and became the most important source of animal protein in Chile. In 2006 the presence of foot and mouth disease in Argentina and Brazil resulted by a significant fall of beef imports, leading to higher prices for beef. Per capita consumption of poultry meat in 2006 was 33.9 kilos, followed by pork with 22.5 kilos and beef with 22.0 kilos.
Further Reading