New Area Sales Manager for Big Dutchman
GERMANY - Khalid Abdelrahman has joined Big Dutchman as Area Sales Manager for Libya.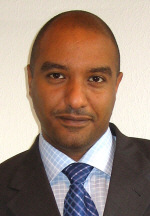 In his new position, he will, for the time being, be responsible for all sales activities in the poultry sector of this country.
Mr. Abdelrahman, a recognized Middle-East expert, obtained a BSc in animal production and food science and has more than ten years of experience in the field of poultry industry.

He is son of the late Dr. Hassan Khairy Abdelrahman, one of the most famous poultry experts in the Middle East. Mr. Abdelrahman is based at the Big Dutchman headquarters in Vechta-Calveslage, Germany.

Big Dutchman, Germany, is one of the largest manufacturers for modern livestock housing equipment in the world. The company is represented in more than 100 countries with a turnover of almost 450 million Euros and 1,400 employees worldwide.