Conservative Leader Warns over Food Crunch
UK - By Chris Harris, Senior Editor, ThePoultrySite. Food security must be a priority, Conservative Party leader David Cameron told the NFU's centenary conference.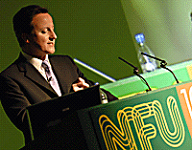 Conservative Leader David Cameron
Mr Cameron said the country needed the farming community to meet the challenges of the 21st century head-on.

He warned that the world was facing a food crunch as consumption grows and becomes more sophisticated and production struggles to keep up.

He said: "Some analysts are beginning to make some very worrying, very stark predictions - that competition for resources will become intense; that food prices will continue to rise; that there will be world shortages of food.

"And these analysts say that politicians should start to rank the issue of food security along side energy security and even national security."

He said the present government was working on the principle that the country could fill any gap that grows between domestic demand and supply with imports. But he warned that the self-sufficiency gap is growing.

"In 1996, the UK's self-sufficiency in food production was seventy-two per cent.

Today, it's sixty per cent," he said.

"Three key factors - three key changes in the world - are converging to put global food production at risk, and undermine those who argue we can depend on foreign food," Mr Cameron added.

"The first is that as people around the world get richer - especially in China and India - so their diet is changing."

He warned that there is a drift away from growing crops for food and more crops for feed.

"Calorie for calorie, you need more grain if you eat it transformed into meat than you do if you eat it turned into bread," said Mr Cameron.

"You need three kilos of grain to produce a kilo of pork and eight to produce a kilo of beef. As a result, farmers now feed 250 million more tonnes of grain to their animals than they did 20 years ago."

He added: "The third change that is happening is the global diversion to biofuels.

But he warned that it is not a panacea for farmers.

He said: "If we give farmers greater freedom - by creating a genuine free market for you to work in, by changing our whole approach to regulation, and giving you the means to connect with your customers through proper food labelling and the ability to set up food co-operatives - we are literally giving them more power and more control over the decisions that affect them.

"Once you have that power, I fundamentally believe you will become far more conscious about the way you use it. More responsible about your environmental impact, more responsible about the kind of food you produce as you'll be judged by consumers not government, and more responsible in making sure you reduce your costs, meet rising demand, and produce more of our country's food.

"And the overall effect will be to make Britain greener and safer. Yes, reduced carbon emissions. But absolutely, fundamentally, guaranteed food security. I believe this vision can become a reality.

"We're all in this together and, if everyone plays their part, British farming can look forward to a secure and prosperous future."
Further Reading