Eurotier: Record Sales 9 Months Early
GERMANY - With more bookings and more foor space than ever before, the International DLG Exhibition for Animal Husbandry and Management, EuroTier 2008 reports record exhibitor participation from Germany and other countries.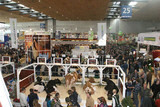 According to the information supplied by the organiser DLG (Deutsche Landwirtschafts-Gesellschaft - German Agricultural Society), the best stand booking figures since the exhibition premiered in the year 1993 have already been achieved - a good nine months before the start of the exhibition.

The number of exhibitors and the floor space booked are already some 10 per cent higher than the final results attained by the exhibition in recent years. EuroTier Project Manager Dr. Karl Schlösser reports that at the present time everything indicates that with more than 1,800 companies and organisations from all over the globe, the world's leading suppliers of equipment and machinery, farm inputs and animal breeding will be presenting innovative solutions and comprehensive information on innovations and trends at the Exhibition Grounds in Hanover.

According to the figures supplied by Dr. Schlösser, excellent participation has been noted for all segments of the exhibition. A complete programme will be presented in both the pig and cattle sectors, as well as in the poultry sector with the "World Poultry Show". By comparison with previous years the stand bookings to date have grown encouragingly, especially in the areas of climate control technology, feedstuffs, animal health and veterinarian medicine, as well as for other farm inputs. Extremely positive interest on the part of exhibitors has also been recorded for the bioenergy segment with "BioEnergy Europe" that was successfully premiered two years ago.

EuroTier 2008 will be held in Hanover from 11 to 14 November 2008.
"World Poultry Show"
Participation by the poultry industry at EuroTier 2008 is unique and embraces the entire sector with its market leaders from the segments of breeding, husbandry and processing. This will make the "World Poultry Show" the highlight of the entire international poultry sector this year.

Cross-species areas of the exhibition, such as feed and feed storage, animal health, or equipment and machinery for climate control, will exercise an additional drawing power on visitors from the poultry branch, who will not be able to find such extensive information at any other exhibition.
Further Reading