Free Range Chickens Flying off the Shelves
UK - According to research carried out by G2 Data Dynamics, nearly two fifths of consumers have switched to free-range chicken since last month's media coverage of intensively farmed birds.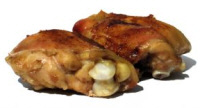 Free range campaign find success.
Photo: Stockxchange
The welfare group Compassion in World Farming report that the growing ethical trend arose after a series of Channel 4 chicken programmes in January and sustained media coverage about the reality behind cheap chicken production. The trend was most prevalent in 25-34 year olds and the over 65s with 41 percent of each group switching to free-range. The food programmes showed celebrity chefs Hugh Fearnley-Whittingstall and Jamie Oliver highlighting the many welfare implications associated with intensive chicken farming.

Compassion in World Farming's Food Policy Manager, Rowen West-Henzell, said: "This is great news. Consumers were shown the reality behind cheap chicken production andare now making more informed choices."

The switch to free-range hasn't just been good for chickens. Free-range poultry farmers have seen a real increase in demand that appears to be lasting. Poultry farmer Peter Colema, of Creedy Carver Chickens said to The Grocer that there has been a 15% increase in demand for free-range birds. He said: "There has been a significant upturn in demand for free-range birds... and we have gained a number of new customers. We thought it was speculation and would drop back... but it didn't."

Although the general trend is towards buying free-range, the survey also found that 36% of people are currently committed to intensively produced chicken and will be for the foreseeable future. In a quote given to The Grocer by Grampian Country Food Group, Alasdair Cox reported that the increase in free-range chicken sales had not been 'to the detriment of standard chicken sales'. Miss West-Henzell commented: "We hope to help all consumers see the value of buying free-range - both by continuing to give them the facts about cheap chicken production and by working with supermarkets who want to help all their customers make more ethical choices."
Further Reading
| | | |
| --- | --- | --- |
| | - | Visit the Compassion in World Faming welfare guide by clicking here. |