International Egg and Poultry Review
US - By the USDA's Agricultural Marketing Service - This is a weekly report looking at international developments concerning the poultry industry.
India
Since December, 2007, H5N1 highly pathogenic avian influenza (High Path AI) has broken out in 15 countries around the world. Countries with confirmed outbreaks in poultry stocks include Bangladesh, Benin, China, Egypt, Germany, India, Indonesia, Iran, Israel, Myanmar, Poland, Russia, Turkey, Ukraine and Vietnam. Most of the outbreaks have occurred in domestic chickens, turkeys, geese and ducks. A few cases in wild birds have occurred in China, Poland and the United Kingdom.

The first reported outbreak in India this year was on January 4, 2008 in the state of West Bengal and confirmed on January 15, 2008. West Bengal neighbors Bangladesh and the H5N1 High Path virus had been spreading in Bangladesh since early 2007. Since the current outbreak began, India has been struggling to keep its worst ever AI outbreak in West Bengal under control. The AI outbreak has spread to 13 of 19 districts in West Bengal and some have estimated more than 1.5 million chickens have already been destroyed with the potential of up to 2.7 million chickens that will need to be culled in order to rein in the outbreak. Rainfall and staff shortages have delayed the culling of the chickens and disinfection will commence once the culling is complete.

The AI outbreak in West Bengal, India has also affected India's poultry exports. Oman, Nepal, Sri Lanka, Qatar, Bhutan, Kuwait and Bahrain have banned imports from India since the start of the 2008 outbreak and the UAE has banned poultry imports since an outbreak occurred in Manipur in July, 2007. Saudi Arabia has only banned poultry from West Bengal. The value of India's exports was $42 million in IFY 2005/2006 and $76.5 million in IFY 2006/2007. The banned exports to the above countries included cartoned eggs, egg powder and processed chicken.

After the announcement of the H5N1 High Path AI outbreak, within a short period of time egg exports took a dramatic drop. The Namakkal belt, an area with 800 poultry farms and where 90% of India's total egg exports come from, experienced a 40% drop in egg exports to the Middle East after the outbreak. Meanwhile, farm gate prices for the Namakkal region have dropped 25% from before the outbreak.

The H5N1 High Path AI outbreak has also affected the rearing and sales of country chickens. Country chickens are raised in backyards and there are 17 varieties of them. Sales of country chickens have dropped over 60% in response to the January, 2008 outbreak compared to a 30% drop to the 2007 outbreak. Farmers in West Bengal have started raising fewer country chickens because of a fear of losses and of culling efforts resulting in sales declining in the state to about 15% of the total number of chickens sold. Concern is developing that the culling of the chickens could destroy a gene bank that could develop new breeds that are better than today's broilers.

India's poultry industry is also being affected by rising feed costs. Feed is about 75% of the cost to raise poultry in India. Soymeal costs have increased 80% in the past year while maize prices have also increased dramatically. Some industry members are urging regulation of maize exports to ensure supplies for the domestic market.


India
Broiler Meat (1,000 Metric Tons)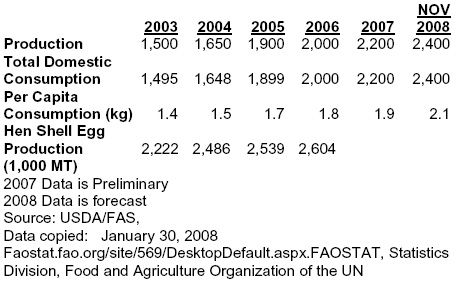 India
(1,000 Metric tons)

U.S. Egg Exports to India
January-November Comparisons

U.S. Exports to Select Countries That Have Banned
India's Poultry Imports (January-November Comparisons)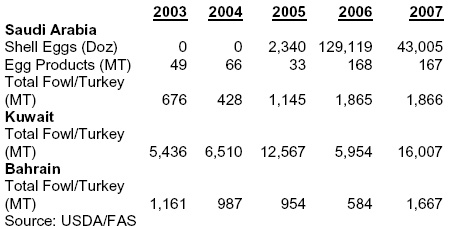 Further Reading
| | |
| --- | --- |
| | - To view the full report, including tables, please click here. |