Legislation Supports Salmonella Control
UK - Legislation in support of a Salmonella National Control Programme (NCP) in laying flocks of domestic fowl has come into force in the UK.
The aim of the National Control Programme is to further reduce the levels, in laying flocks, of the two most important types of Salmonella for human health, Salmonella Enteritidis (SE) and Salmonella Typhimurium (ST) by 10% each year for the next three years from a baseline established following a survey in 2006.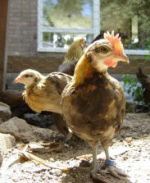 A new Salmonella control programme has come into force.
Photo: StockXchange
In this survey, UK levels of SE and ST were found to be among the lowest of the major egg producing Member States, with SE or ST present on 8% of laying flock holdings.

From today, keepers of laying flocks will be required to follow a sampling and testing programme set out in the NCP to establish the prevalence of Salmonella on-farm.

The NCP requires that from 2009, eggs from flocks confirmed to be infected with SE or ST cannot appear as fresh shell eggs at retail. Such eggs may not be used for human consumption unless treated to eliminate Salmonella, i.e. heat treated or pasteurised.

Deputy Chief Veterinary Officer, Alick Simmons, said:

"The UK egg laying industry has worked hard, including through voluntary measures, to control Salmonella as demonstrated by the low levels reported following the EU survey. However, we believe that with the support of industry the National Control Programme can further enhance the reputation, quality and safety of UK egg production.

"I would encourage producers to seek expert advice from their vet or Animal Health or the Veterinary Laboratories Agency as to how to meet the control measures, and as always to monitor their flocks and take action to reduce the risk of infection."