Senior Appointment Underpins Pas Reform Expansion in Asia
MALAYSIA - Pas Reform has further underlined its commitment to the Asian Hatchery sector, with the appointment of a new Sales Director for the region and the opening of a new subsidiary office in Malaysia.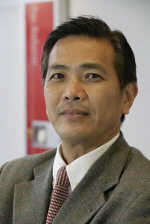 Dr. Tan Ee Seng, Sales Director Asia
From February 2008, the company's new sales office in Kuala Lumpur, Malaysia, will be headed by Dr. Tan Ee Seng, newly appointed as Sales Director for the Asia Pacific region.

Working in close co-operation with Sales Director Henk Markhorst and Director International Sales & Business Development Bouke Hamminga, Dr. Tan will focus on further extending the company's healthy and growing presence in Asia.

Tan Ee Seng's career spans 25 years in senior sales and management roles in the poultry industry. Before joining Pas Reform, he worked at GSI Asia Group, a subsidiary of GSI Group USA, as Asia-Pacific Sales Director, where he successfully led the company's poultry and swine house equipment business.

Prior to that, Tan worked for 10 years in different management positions for Avian Farms Malaysia, part of the Charoen Pokphand Group in Thailand. He has also worked as a manager in a commercial broiler production facility and as a farm manager at the University of Agriculture, Malaysia.

Tan studied at the University of Agriculture in Malaysia, where he gained a degree as a Doctor of Veterinary Medicine (DVM) and a Diploma in Animal Health and Production .

Within his new function, Dr. Tan will also deploy the skills of the Pas Reform Academy, to support customers throughout the region. As, a dedicated training facility that delivers highly practical training programs, the Academy promotes a current understanding of embryology, incubation, genetics, hatchery management and technical training and has become an important contributor to Pas Reform's commercial partnerships worldwide. Bart Aangenendt, CEO of Pas Reform Hatchery Technologies, says of Dr Tan Ee Seng's appointment: 'We are extremely fortunate to have someone of Tan's calibre onboard to drive our operations in Asia. His expertise in building alliances with strategic partners will be central to unfolding our vision for future focused incubation and boosting regional growth'.

Dr. Tan is, he says, very much looking forward to working in the hatchery technology sector. "Pas Reform has shown an enormous committent to Asia in recent years," he says, "I am delighted to be working with Smart single-stage technologies - and to be using my skills to help drive this dynamic, hard-working organisation to the position of market leader here in Asia'.