Tofurky Teams up With Humane Society
US - Tofurky, one of the best known meat alternatives, hit store shelves back in 1995 and has seen impressive sales ever since. Now the animal welfare group, The Humane Society of the United States, has decided to team up with the company.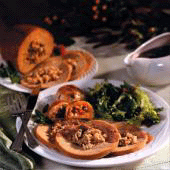 When Seth Tibbott became a vegetarian, he had some bad experiences on holidays, so he went to work and created Tofurky.
It's been mentioned on popular TV shows such as "Jeopardy," "Tonight Show with Jay Leno," and "The X-Files" and is even mentioned in the new hit movie, "27 Dresses." Now it can add one more connection—a corporate relationship with The Humane Society of the United States (HSUS).

Beginning immediately with its deli slices, packaging for Tofurky all-vegetarian products will carry the HSUS logo. Other products will follow, including roasts, hot dogs, sausages, franks, burgers, jerky and more.

"One important goal of The HSUS is to encourage market solutions that benefit animals. So it's a privilege to share the stage with a company producing a healthy and animal-friendly product," said Paul Shapiro, senior director of The HSUS' factory farming campaign. "We want our members and supporters to know that this delicious, satisfying, and humane food should be on their shopping list."

"Including the HSUS logo on all of our packaging further demonstrates our commitment to creating a more humane world," stated Seth Tibbott, CEO of Oregon-based Turtle Island Foods, the maker of Tofurky. "We're proud to be working with The Humane Society of the United States."
Further Reading