Big Dutchman Agriculture (Thailand) Has Moved
THAILAND - Big Dutchman has given proof of its deep determination to further strengthen the favourable relationship between the German poultry and pork equipment supplier and its Asian clients: At the beginning of the new year the Big Dutchman office in Thailand moved into new premises, thereby considerably expanding its spatial capacity.
Floor space has increased to 1,800 m2 and includes fashionably and functionally designed representative office space for 36 employees spread out over two floors as well as a larger warehouse. The decision to move is a direct response to the increasing demand for pig and poultry housing equipment supplied by the worldwide market leader.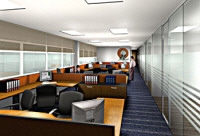 Office Space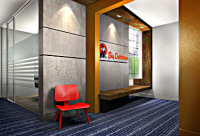 Reception
The Bangkok office belongs to the Malaysia-based Big Dutchman daughter BD Asia and has been in charge of distributing modern poultry housing equipment in Thailand since 2002.

In addition, last year the Big Dutchman-branch in Bangkok also assumed responsibility for the sale of Big Dutchmans pig housing equipment throughout Asia-Pacific, and the Regional Headquarters for Pig Sales and Service was added to the Bangkok office. "In both business divisions we have been observing a growing demand for our products.

In order to be able to continue to meet the market requirements as well as to continue providing expert services to our clients, the move had become necessary", Brian McCawley, General Manager of Big Dutchman Agriculture, Thailand, commented on the move.

Bangkok-based Big Dutchman Agriculture (Thailand) Ltd. belongs to the Big Dutchman Group, the worldwide market leader for modern pig and poultry housing equipment. The German company headquartered in Vechta is active in more than 100 countries and achieved a business volume amounting to approximately 450 mio. Euros with 1.400 employees worldwide in the last fiscal year.