Focus Asia Celebrates Most Successful Event Yet
BANGKOK, THAILAND - The 3rd Pig and Poultry Focus Asia and the 1st Dairy Focus Asia technical conferences that were recently held at the prestigious Imperial Queen's Park hotel in Bangkok, Thailand were a great success with over 600 delegates from over 30 countries from around the world attending.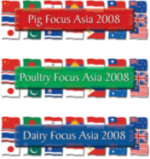 In total some 80 international experts from around the world gave pig, poultry and dairy producers a great insight into how to make their operations more efficient, and, hence, commercially effective.

The feedback from delegates was extremely positive and had the consistent theme that these conferences, which are co-hosted by NCC Exhibition Organizer Co Ltd of Thailand and the international livestock technical magazine publisher, Positive Action Publications Ltd from Great Britain, were pitched at just the right level for producers and their advisers.

At the opening ceremony Mr Sakchai Sriboonsue, The Thai Livestock Department's Director General and Mr Paul Reid from the British Embassy welcomed delegates to the conferences and Mr Vanus Taepaisitphongse, the CEO of the internationally known Betagro Group, reflected on the challenges facing progressive livestock producers and the importance of the effective utilisation of knowledge in today's successful livestock operations.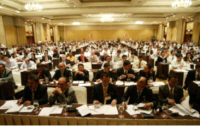 The opening session of Pig, Poultry and Dairy Focus Asia 2008.
In the three opening Keynote Addresses Gerardo Morantes from Cargill, Christopher Nelson from Kemin and Bruce Spielholz from Preserve International focussed respectively on mycotoxins, nutricines and disinfectants after which the conference divided into separate pig, poultry and dairy programmes.

'It was especially pleasing to see a good turnout for Dairy Focus Asia 2008 which was a pioneering event for the region which had never had such a dairy conference before', said Nigel Horrox from the co-organisers Positive Action Publications Ltd, 'and we look forward to building on this success with Dairy Focus Asia in 2010'.

Ladda Mongkolchaivivat of NCC Exhibition Organizer Co Ltd confirmed that the 4th Pig & Poultry Dairy Focus Asia and the 2nd Dairy Focus Asia conferences would be held in early 2010 and that they would again be held in Bangkok, Thailand.