Jet-Setting Farmers Inspired By New Zealand Trip
UK - After an exceptionally difficult year in livestock farming, the prospect of leaving it all for two weeks to visit the vast and sunny climes of New Zealand was a welcoming one.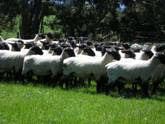 The four winners of animal health and nutritional specialist Agrimin's Boluses offer jetted to the other side of the world to relax, recuperate and share their thoughts with fellow farmers from across the globe.

The trips are part of a new annual Agrimin initiative to create inspirational links between farmers in the UK and abroad and this spring sees the launch of farm programmes and tours in Canada. A two week trip of farm study tours and farmstays will be combined with independent touring to areas such as Niagara Falls and the Rockies, including options to visit legendary events such as the Calgary Stampede or the Royal Agricultural Winter Fair in Toronto.

The trips, valued at over £5,000 each, will be arranged personally with the visiting farmers to include special stays and features catering for individual interests such as beef farming, sheep healthcare and dairy nutrition.

Agrimin's International Farmers' Trips project is aiming firstly to give farmers a well deserved break - in the company of like-minded colleagues from across the globe - but also fresh personal and professional inspiration, considering the particularly difficult challenges that have hit livestock farming across the UK. Full details of how to win a farming trip to Canada are available at www.agrimin.com

Scottish farmer Malcolm MacDonald was one of the farmers who visited New Zealand with Agrimin. He has farmed the same 3,500 acres for the past 39 years and saw the trip as one in a lifetime.

He says:

"We've had a very difficult year – one of the worst in my memory of 40 years of farming. The trip was a dream come true and we found it to be a good way of relieving the year's stresses. It was actually very therapeutic to have conversations with other farmers about the challenges we all face in farming – it's been truly fascinating and I've brought back plenty of photography to show farming colleagues back in the UK."

For award-winning Derbyshire farmers Louise and Steve Buckley the trip couldn't have come at a better time. Louise Buckley explains:

"This trip got us through a very dark year. Foot and mouth was devastating and then there was blue-tongue to contend with. It was fantastic to have this opportunity. It gave us a break we needed to re-fresh ourselves. Although the farming climate is slightly different out in New Zealand, with much more space and more of a national focus on the industry, it was great to talk through various farming ideas with our New Zealand colleagues. Our gallery of pictures includes numerous shots of New Zealand farms showing how they irrigate and manage the vast areas of land and run most of their farming outdoors because of the longer, warmer days."

Gareth Hughes runs a herd of 1200 breeding Ewes and 50 Suckler cows in Gwynedd Wales. He took a colleague farmer to New Zealand and says:

"Like many farmers I've had a very bad year indeed and it's been really inspiring and refreshing to not only see different farming practices, but also to talk to other farmers, from another part of the world about their personal experiences and ideas."

Agrimin is sharing inspirational feedback and photography from its international farm trips on its web site www.agrimin.com - click through to International Farmers' Trips in the International section.

Entry forms for Agrimin's International Farmers' Trips to Canada are featured in packs of a range of Agrimin Bolus products from now through to the end of April 2008. Agrimin products are sold throughout the UK by the animal health supply trade and veterinary surgeons.