Antibiotic Truths
US - For more than half a century, farmers have used numerous antibiotics to improve the health and productivity of pigs, chickens, cattle and other livestock.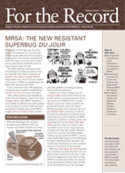 Today, a chorus of professional hand-wringers claim farmers are playing with a "ticking time bomb" that endangers human health.

But the only clock ticking is the one counting down how long it will be until our industry is no longer able to provide abundant animal protein to a hungry world. Using scientifically sound tools like antibiotics is not a luxury.

It is a necessity if we are to keep a healthy supply of meat, milk, poultry and eggs within the budget of consumers. It's time to look beyond sensationalism. It's time for a few truths about antibiotics.
About for the Record
Made possible by a grant from ALPHARMA Inc., Animal Health, For the Record brings you facts and analysis regarding the debate over antibiotic use in meat, milk and egg production.

It is designed to temper the hype with a rational message on behalf of producers whose freedom to use this and other safe, effective, economical production methods is at stake. Working together, we can set the record straight on antibiotics.